Greenhouse Kit From SolaWrap- Built to LAST!
Who Is The SolaWrap Greenhouse Intended For?
Commercial growers who depend on the strength of the frame coupled with the superior covering SolaWrap.

Commercial growers who don't have time to recover the greenhouse every 4 years or when the poly film fails.

Commercial growers who can't afford a crop failure due to a breach in the film after a storm.

Home owners who want the

Cadillac

of greenhouse kits- A serious professional greenhouse.

Commercial growers and homeowners alike who live in snowy, windy regions that need a very strong greenhouse covering and structure.
Why Use SolaWrap You Ask...
The air bubble greenhouse film Polydress® SolaWrap is a lightweight, tear-resistant material that is easy to cut with a knife or scissors. It simplifies your greenhouse construction and reduces the building time, allowing an installation in record time.
Uniform illumination and a favorable microclimate promote plant growth.
Its unique construction prevents any leaks or thermal bridges, so that up to 95% of the heat radiation is retained. This saves you money. At the same time, the air cushion bubbles (1,000 bubbles per sqm) ensure a diffuse interior illumination.
The result is an effective prevention of shading and burning from sunlight.
Greenhouse Kit Includes:
SolaWrap Film to construct the greenhouse

Metal frame with all the parts
These kits include everything needed to construct a greenhouse except baseboards, heating and cooling.
Greenhouse Kit Sizes
24' x 64'
24' x 96'
30' x 72'
30' x 96'
34' x 114'
PRICING: The price is based on your location. If you have high wind, snow, seismic or rain in your area, we will include more steel to protect against failure. While there are "kits"- they are made to order and thus the pricing varies due to your weather and location.

WHY GET A SOLAWRAP GREENHOUSE KIT?
What makes our kit hold up years after the others collapse under the snow/ wind load?
SolaWrap Film Snow Load Capacity: 120 lb/sq ft
10 Year Warranty Against UV Degradation
R-Value: 1.72
Wind Load Capacity: 100 mph winds
Transparency: 83%
Diffusion: Up to 83%
SolaWrap greenhouse kits are made with American made galvanized steel tubing.
Thickness of the Tubing: Standard bows are 1 5/8" round, 16 gauge (wall thickness is .065) Heavier duty bows are 1 7/8" round 13 gauge (.095)
Purlins: All SolaWrap greenhouses have 5 purlins as well as collar ties and vertical bracing.

What differentiates a SolaWrap Greenhouse? SolaWrap houses only have one connection pint. The bows are only 2 pieces with an 18" sleeve that connects the two bows.

End Walls: All kits have steel end walls
Doors: All kits have steel doors that can be customized when ordering.
Discounted prices for multiple greenhouse purchases.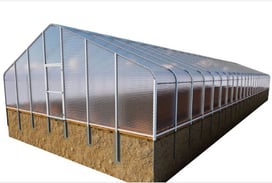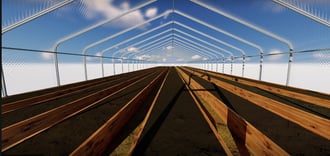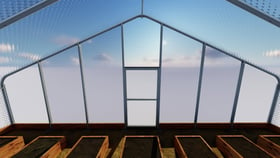 Has a questions sprouted up?! Please submit it below.