SolaWrap Technical Data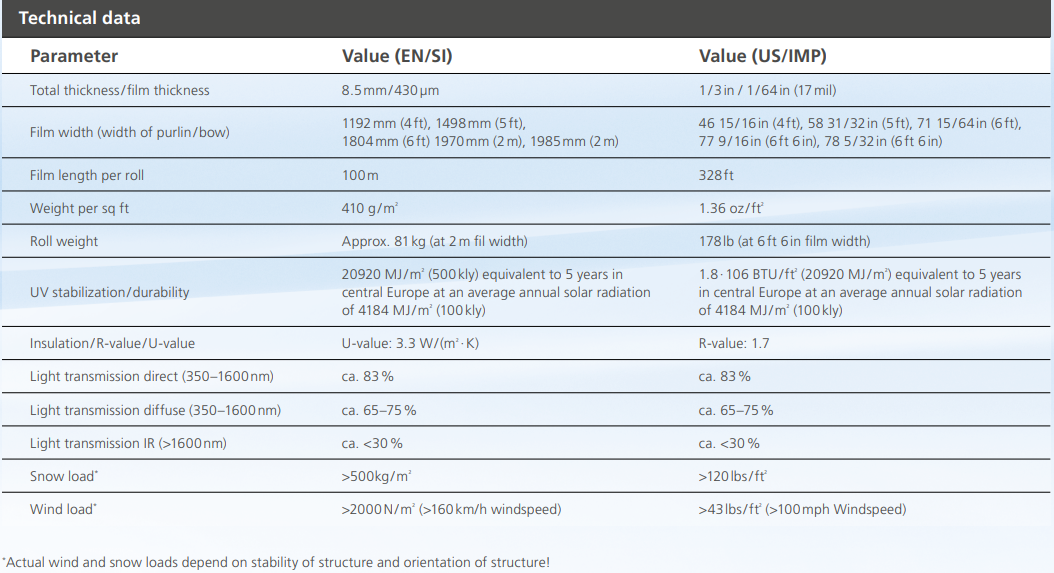 SolaWrap- More than 40 years of proven innovation

SolaWrap stands for strength and durability within the global greenhouse roofing industry. With over 40 years of design expertise and scientific testing – including tests conducted in the harshest natural climates and weather conditions – SolaWrap Greenhouse Plastic has proven itself in hailstorms, snowstorms, hurricane-force winds, and severe heat and cold.
Whatever the conditions of temperature, moisture type or barometric strain, this system is sure to stand up to them.
SolaWrap Greenhouse Plastic Delivers Significant Energy Savings
SolaWrap greenhouse film with the bubbles simply saves more energy. Its unique design features plastic
air bubbles, that are specifically engineered for thermal insulation and diffusion of sunlight. In combination with the profile attachment, the keder locking mechanism ensures a water and air-tight structure that withstands even the most extreme elements and
climates. LP-Keder provides an insulating effect that retains up to 95% of heat radiation with an impressive R-value of 1.7. This energy efficient design represents significant cost savings for its users.

Blue Print of SolaWrap greenhouse film with welded keder-cord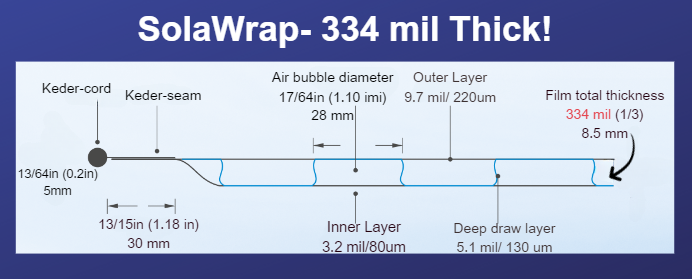 SolaWrap Delivers High transparency
SolaWrap guarantees an even light diffusion over the entirety of the structure.
LP-Keder uniquely allows a substantial amount of sunlight, approximately 83% of which is diffused by healthy infrared light, diffusing through more than 100 air bubbles per square foot. The diffused light scatters evenly so as to avoid and eliminate the common difficulties of both shading and burning areas with the structure.

10 Year Long-term UV protection



GPS/ SolaWrap guarantees the film with a 10 -year warrantee against UV degradation. Tested and proven over 30 years, amazingly the films do not change in color or transmission charecteristics after being exposed on greenhouses as shown in table below.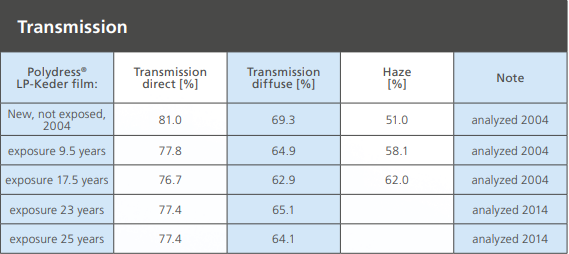 SolaWrap Offers Trouble-free Recycling
SolaWrap is a polyethylene film that is completely recyclable and is safe to incinerate.


Blueprint of the layout of SolaWrap and the plastic profile/connector

Greenhouse Film Installation

The air bubble greenhouse film is very easy to assemble due to the special features of the keder section and keder channel:
1. Unwind Polydress® LP-Keder from the film roll.
2. Feed the greenhouse film in strips into the unique
greenhouse truss profiles.
3. Haul on the pull rope until the desired end
point is reached.
4. Finally, simply cut the foil with a knife or scissors.
In case of damage, you can easily replace individual
strips. This keeps costs down and promotes sustainability.
Blueprint of the layout of LP-Keder and the plastic profile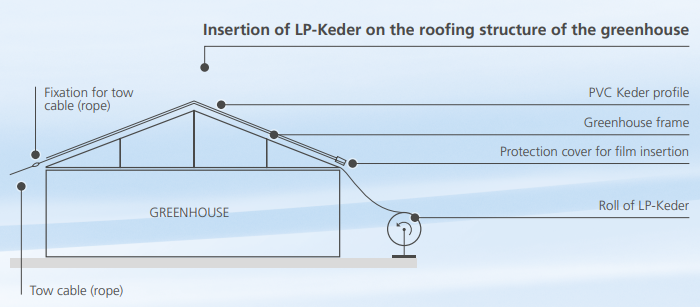 Do you have a quick question?