Are all greenhouse plastic films the same? Compare the following:
Superb Transparency / Light Diffusion
SolaWrap is on par for insulation with triple wall polycarbonate (which cannot be applied to hoop houses due to it's rigid nature), as well as 83% light transmission and 83% light diffusion. This amount of light will allow your plants to grow at a faster rate. Clients using SolaWrap greenhouse plastic in the Mediterranean have reported a 3 week advancement of tomato crops in structures covered with SolaWrap when compared to structures covered in other forms of polyethylene. Plants flourish under diffused light. Only SolaWrap provides high light transmission, high light diffusion, and high insulation. Learn about the bubbles here. Click for Image Gallery.
Please visit our Facebook page for more pictures and videos.
---

Durability
With over 30 years of design expertise and scientific testing hailstones,snowstorms, hurricane winds, and severe hot and cold weather are not match for this greenhouse film. SolaWrap maintains the highest of global manufacturing standards! We feel confident in certifying Polydress® SolaWrap to meet your present and future greenhouse roofing needs. When you cover your greenhouse with SolaWrap greenhouse plastic, you are investing in the success of your business. Click for Image Gallery.
Click here for the results of a 6-year study...SolaWrap vs 6-mil poly!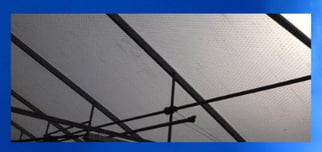 This a 20 year greenhouse still going strong. Learn more about SolaWrap's longevity and proven history here.
---

Energy Savings
SolaWrap greenhouse plastic has surpassed other greenhouse roofing materials on the market today.Polydress SolaWrap saves more energy with its unique German design feature- the air bubbles.These air bubbles are specifically engineered to both insulate and diffuse sunlight. In combination with the profile attachment, the keder locking mechanism ensures a water and air-tight structure that can withstand the most EXTREME elements and climates. SolaWrap greenhouse plastic provides an insulating effect that retains up to 95% of heat radiation while providing an impressive R-value of 1.7! This energy efficient design represents a significant cost savings for the greenhouse owner.
_________________________________________________________________________________________________________________________________________________________________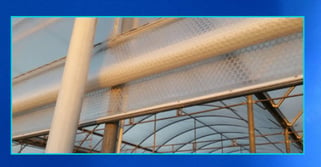 Ventilation
Greenhouse ventilation is one of the most important components for a successful greenhouse. It is especially important in hot and humid climates. Without proper ventilation, the plants can encounter problems. When the air can move plant pathogens such as Botrytis cinerea can build up. SolaWrap greenhouse film makes it easy to regulate the airflow in the greenhouse.
---

Flexible
Polydress® SolaWrap is a flexible polyethylene material (greenhouse plastic) that can easily be cut with a knife or scissors. Whether replacing your existing roofing material or building a new structure, the film's light weight allows for quick and easy installation. SolaWrap is utilized in conjunction with the unique connector/profile locking system allowing for new sections to be exchanged with older sectioning with ease. You can increase the size of your greenhouse by adding sections to the hoop structure. The size of your greenhouse can grow with your business demands.
---

Easy To Install
SolaWrap offers the easiest installation of any greenhouse plastic. Our patent pending connector is a slide and lock technology that is easy and safe to use. Simple slide the bubble wrap plastic sheeting piece into the connecting stations and that's it. You can have confidence this extrusion will hold. Here is an image of the extrusion being hit with a 240 pound dart test! No Problem! At SolaWrap, we are always testing to see how we can make things better! View the 10' connectors here.
Watch a video of a Solawrap Greenhouse at the Noble Research Institute in Ardmore, OK.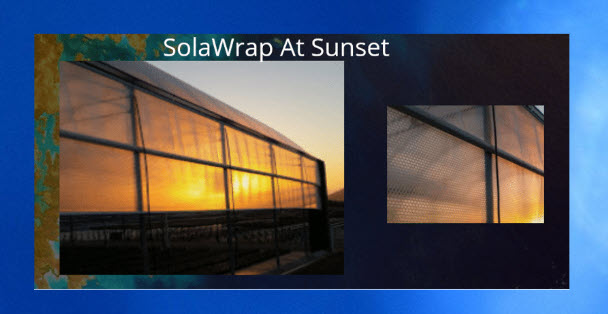 SolaWrap is a polyethylene film that can be completely recycled in an environmentally-friendly manner or thermally reused in secure fashion.
Give us a call and we will send you a sample of SolaWrap with a connector and a brochure.
SolaWrap Greenhouse Film Roll Sizes***

:
4' x 328'

5' x 328'

6' x 328'
*** SolaWrap is measured from the center of each connector holding the film on the greenhouse. Center to center equals 4', 5' and 6'. The film sizes are true when used with the connectors. Actually film sizes are one inch less, 4 foot is 47 inches, 5 foot is 59 inches, and 6 foot is 71 inches.
SolaWrap Connectors
10' x 1.525" long- 25 to a box.
View the technical data by clicking here.

Click here to learn about other greenhouse covering materials and make an informed decision.
Quick SolaWrap Question?