Seeing Solawrap Greenhouse Plastic is Believing!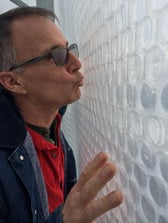 Solawrap greenhouses are sprouting up all over the U.S. Get this film in your hands and you will feel its strength and see its light diffusion. You will understand why it has such good insulating properties. We would be happy to send you a sample of SolaWrap, a connector, installation instructions and a brochure.
For fastest service please call 760.597.9298 Monday-Friday 8:00 AM to 5:00 PM and request a SolaWrap Sample... OR Please fill out the form below, and we will be happy to mail you the packet within 3 to 7 days.
Life is good with SolaWrap!